Israel programm
Traveling is a nice way of learning. From the moment on that we are away from our safe environment, many people are more open to learn. The new situation makes us think. Because of this, we like to travel with the participants of our education programs.
One of our education modules takes place in Israel. The country, where the stories of the bible have taken place and will take place in the future. We always experience special moments and meetings with people from all nations.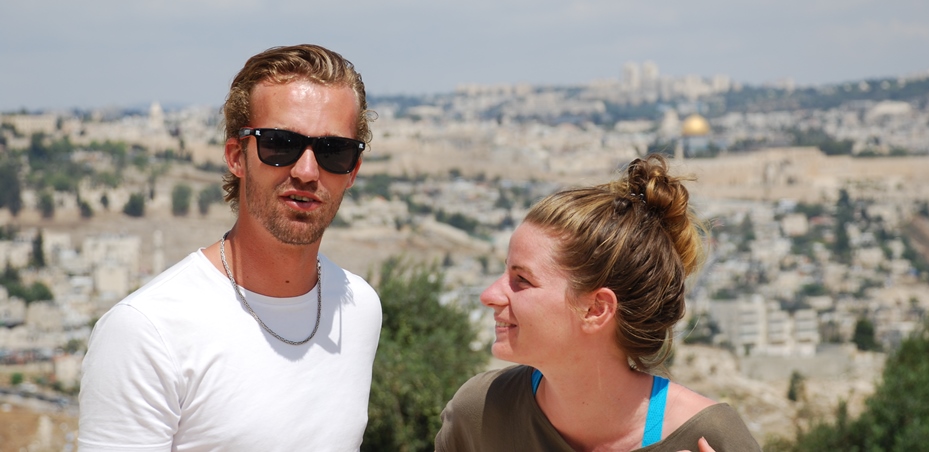 How does it work?
In the education module Israel it's not that we organize the whole journey and that you take part of a fully organized travel. We plan in fact a period, when whe will be in Israel and you have the possibility to take part in the module whe are giving there. We can help you in planning, booking and organizing the journey. We can also bring you in contact with other people who are going with us. Because of this way of organizing, you have a lot of control and you can choose on what moments you want to join. It is a nice way to learn.
Traveling in Israel with Yada Studies is because of this concept a unique experience. It features itself by the fact that we want to be suppressed by what God gives. The solid structure comes from the overnight places, who we and therefore you, reserve. The program and learning content develop around that. The result is that you are fully involved in the planning, which can therefore be very flexible. We want to connect the activities and visiting places with the bible. Bible study in a very practical way.


Before whe leave whe come together in the Netherlands to inform and instruct everyone about how you can organize the journey: which flight you can book, where you can stay for the night and such. We coordinate where this is necessary and leave space where this is preferred.




Therefore every journey is different. This is dependent on who going with us and the preferences of the individual participants. Yada Studies takes care of the lessons and content of the bible studies, that are realated to the places that we visit.
Also when you want to spend a part of the training module at helping others. This we do specific by helping on a place (a farm in the '' westbank '', reception centers, etc.). It may be possible that we join a part of an educationprogram in an Israelian school.





When is the next journey to Israel planned?
Whe planned a training module in Israel April 2020.
This journey could not take place because of Covid- 19.
As soon as the situation allows it, we want to go to Israel again.
Are you going with us?

Interested?
Are you interested in this unique way of going to Israel?
Please contact us, so that we can inform you about it.
Also look to the experiences of others.